Attending our first post COVID-19 event; The Palma Superyacht Show 2021
We felt so grateful to be back at an actual, in-person event this month. Our Executive Director, Tobias Allebrodt, attended the 2021 edition of the Palma Superyacht Show, which took place between 3rd -6th June.
It is the first show that IDEA Data Solutions has exhibited at or attended for a whole seventeen months. As much as we have adapted to and embraced communicating via Teams and Zoom video calls; nothing quite compares to seeing people face-to-face, viewing superyachts up close and networking over ice cold drinks in the beaming sunshine!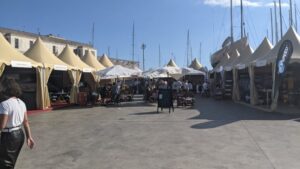 Our latest release
Keep an eye out for our latest release update e-mail, out next week!

Smooth Sailing
IDEA's Customer Success & Product Manager, Jan Langweg, looks at how working with a versatile yacht management software system, built around a robust database improves the yacht's overall efficiency for the owner and crew.
Read the full article here (featured in the latest edition of ONBOARD Magazine)
Watch this short video to find out how our software can support you in managing your vessel, giving you time back to complete important tasks.
We'd love to hear your thoughts!
We always love to hear from our customers, please get in touch via our website or e-mail us.
You can also follow our posts and join in the conversation on social media.
Best wishes,
The IDEA team