IDEA YACHT Release 2023.2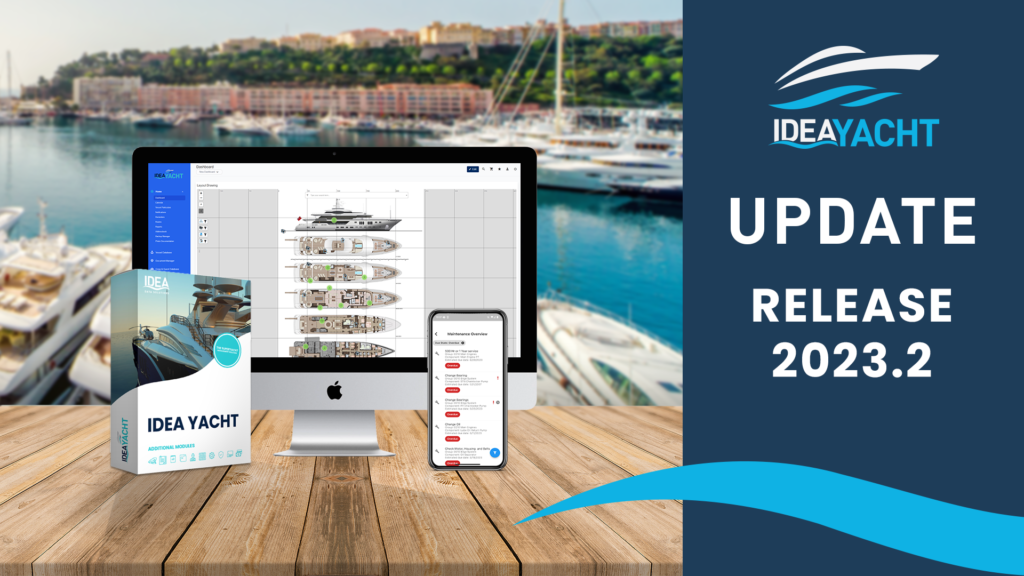 Update 2023.2 IDEA YACHT sees big improvements to our new IDEA Snag List module, allowing even more flexibility and huge advancements in the way you can utilise your layout. With the ability to create more markers and filter them like never before, if you're not familiar with the layout, then there is no better time to start using it as part of your workflow. Enhancements to budgets and search functionality are also included, as is improvements to creating purchase orders and an integration with yacht product marketplace
Yachtneeds
. Please find below an overview about all the key features included:
 
Layout
Upgraded control to handle high number of marker data, easily handle 50k and more points of interest.
Snag List added to layout drawing, directly manage your snag entries from your dashboard
Multiple layouts, you can setup one by deck or manage your tender or shoreside locations
Easily filter your markers, with built-in filters
Global search directly in your layout, search for any component, storage, entry point or Snag List entry on any layout.
See tasks for equipment, complete tasks or update running hours for your hour counter
With the logs and round module you can also update entry points directly from the layout
Add the new layout widget to your custom dashboard to control IDEA using your layout drawing
 
Budget
New budget/account code support, connect a purchase order with a custom accounting code.
Archive budgets that should no longer be used, they are still shown and can be checked to see spending details
 
Search
Updated global search in IDEA YACHT
Press / on any page in IDEA YACHT to open the search dialog box quickly
Changed the background of the search to "server-side" operation, handle bigger databases and result sets
App
Get notifications if you have not synced data on your phone, never miss sending the last maintenance you performed
Yachtneeds and Amazon integration in the app
Use the built-in barcode scanner to jump from entry point to entry point in a round, you can also use the NFC tokens for it
Extended the global app search for inventory, find all your spares & consumables
 
Snag List and Snag List Cloud
Share sang entries with 3rd parties easily with our no extra costs Snag List Cloud
Improved Snag List workflow editor, create and manage your custom workflows easily
Improved overview in IDEA YACHT, more filters on the Snag List overview page
Optional "All" state for your workflow, filter for any data in a given workflow in one view
 
Get more information and a quick user guide to IDEA YACHT's new functionality in the full release document below.