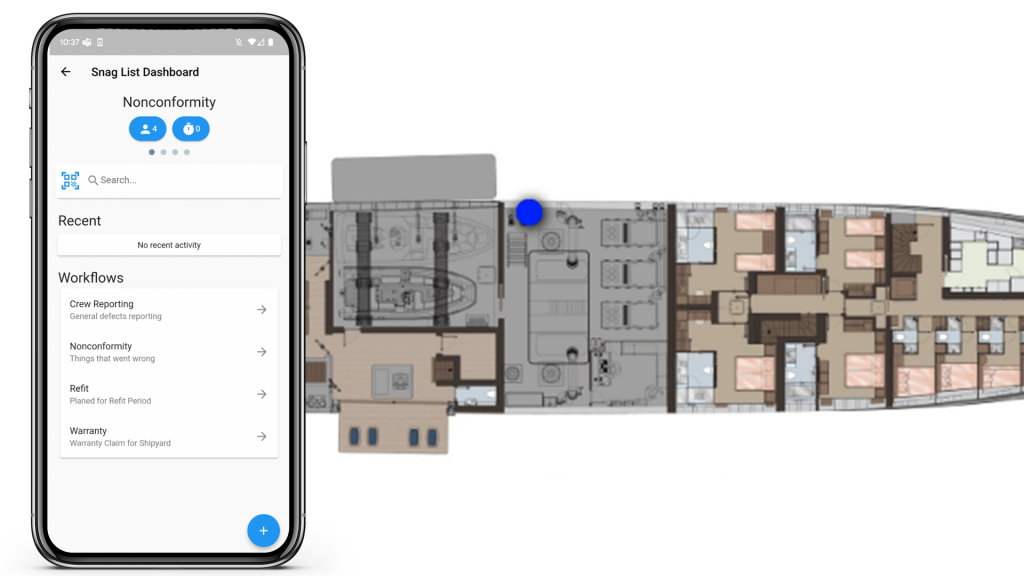 Released in our 2023.1 release is a brand-new feature that will help you keep track and more efficiently manage repairs and tasks on your yacht by creating a snag list.
Snagging and identifying faults, issues and works to be undertaken are essential to ensuring quality and safety onboard. The IDEA Snag List feature allows you to consolidate information and workflows to enable you to keep track of the status of a project and keep information regarding the works in one place.
It provides the possibility to mark locations on the GA and attach documents, notes, images and videos with multiple custom workflows to meet your vessel operations. Assign tasks to crew members, manage budget for the specific repair, and identify previous similar repairs to ensure you retain value for your asset.
The Snags can be linked to any data out of the vessel database like components or tasks to keep all information within one system to simplify the management of warranty claims and the creation of worklists for refits also.
The IDEA Snag List add-on is the ideal communication tool to document and report all kinds of issues and damages during daily operations.
A precondition to activate this feature is either a valid support plan (SP10) or a cloud package (SP11, SP12 or SP13) which includes unlimited IDEA app devices (Android and iOS) to make the creation and handling of snags as easy as possible.
Want to hear more about our Snag List feature? Click the button below.