IDEA YACHT Release 2023.1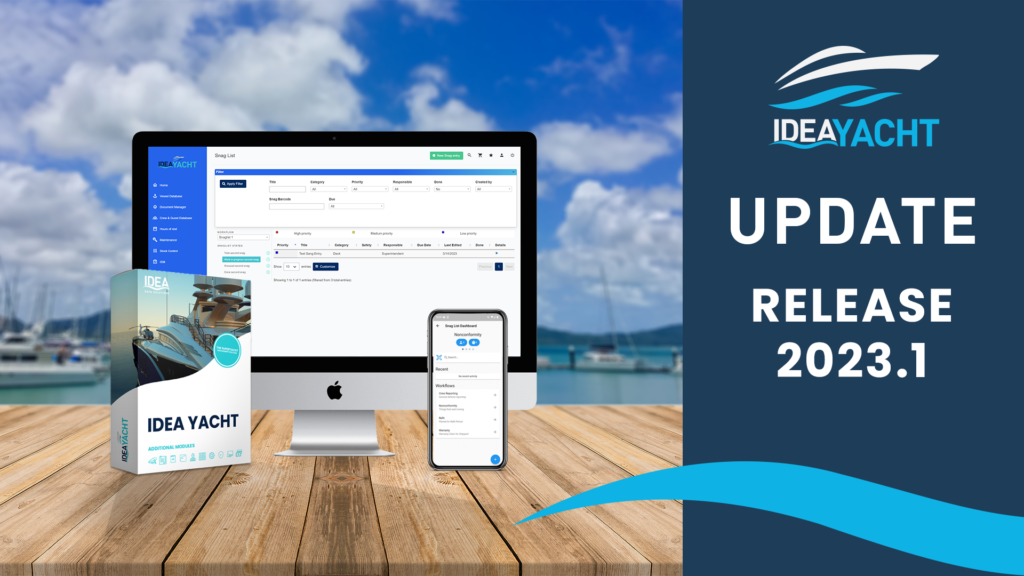 With 2023.1 IDEA YACHT introduces the all-new IDEA Snag List module, allowing a new level of corporation and flexibility with your IDEA products. No matter if you want to track to-do items for different departments, document your next refit or keep any overview about warranty claims, the IDEA Snag List module can support you in the process. Please find below an overview about the key features included:
Create custom workflows for your snag lists, each workflow can have multiple states
Permission by states, setup how can close or create a Snag List entry in your workflows
Overview page for each workflow, filter Snag List entries to get a quick overview
Use the two new widgets for your dashboard to create your custom Snag List view
Snag List entries can be connected to multiple equipment from your vessel database
Connect one-time or periodic tasks to your Snag List entry
Use the Android or iOS app for idea yacht to work with Snag List on the go, completely offline
Each Snag List entry can mark multiple locations on your layout drawings (or on multiple drawings)
Attach files to Snag List entries
Add notes or replies to notes to communicate and work together on a Snag List entry
Use the completely new IDEA CLOUD portal to share any number of snag lists with anybody (like a 3rd party contractor or shipyard) no need to provide access to your onboard installation or IDEA YACHT instance
Get more information and a quick user guide to IDEA YACHT's new functionality in the full release document below.