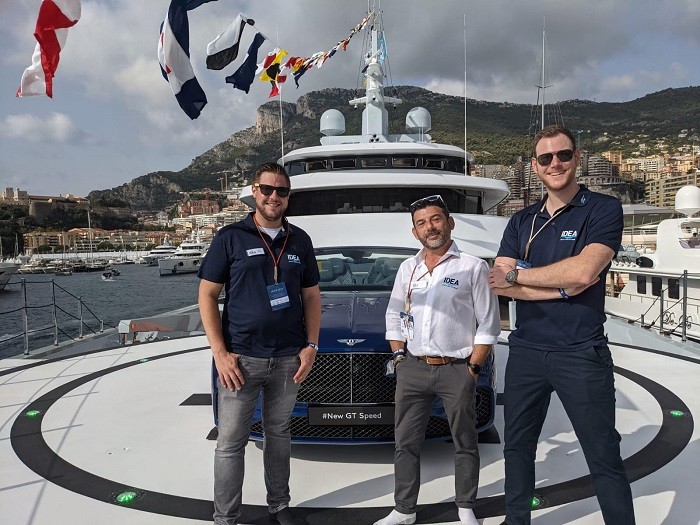 Monaco Yacht Show 2021 – the highlights
We were thrilled to once again be exhibiting at The Monaco Yacht Show (MYS), the world's benchmark yacht show.
The MYS exhibits a selection of companies linked to the yachting and luxury markets. Visitors come here to meet the best experts on the market to discuss their yacht project or learn about current and future trends in super yachting. Our Executive Director Tobias, sales team Roberto, Vitaly and Felix, Customer Success Manager Jan and event support Patricia attended the show. We are delighted to have secured more than 70 new contacts. This includes clients, partners, shipyards and managing companies.
Networking
Visitors were welcomed to our stand which was well stocked with drinks and goody bags. We enjoy talking people through how our tailored software solutions can make the running of their vessel a whole lot smoother! Presentations of live demonstrations took place, showing potential customers our software in action. This helps users to understand how we can help to manage and resolve their pain points. Our new 30 metre and 70 metre fleet products have also attracted a lot of interest in the industry.
Our team enjoyed a delicious breakfast hosted by Young Professionals in Yachting .We love to meet future talent of the yachting industry!
Seeing the finished product
A highlights of the show was a customer tour of Victorious, a motor yacht with a length of 85 metres. Roberto enjoyed sitting in the Bentley, positioned on the heli-pad feeling rather like James Bond. All in a day's work for staff at IDEA! It's so rewarding to see the final results of a project we've seen through to fruition.
Although there were still some major covid restrictions in place, it did not stop hundreds of visitors from attending MYS 2021.
On the gorgeous harbour on the Cote d'Azur, with its turquoise blue skies and crystal waters, it's easy to see the draw to this event. It's apparent that the yachting industry has seen a real boom on the back of the pandemic. We're excited for the opportunity to support crew with running vessel's more efficiently!
If you weren't able to make it to the show, or didn't get chance to visit our stand – we'd love for you to get in touch with us for a personalised software demonstration or to discuss any aspect of our products and services – idea-yacht.com/contact/